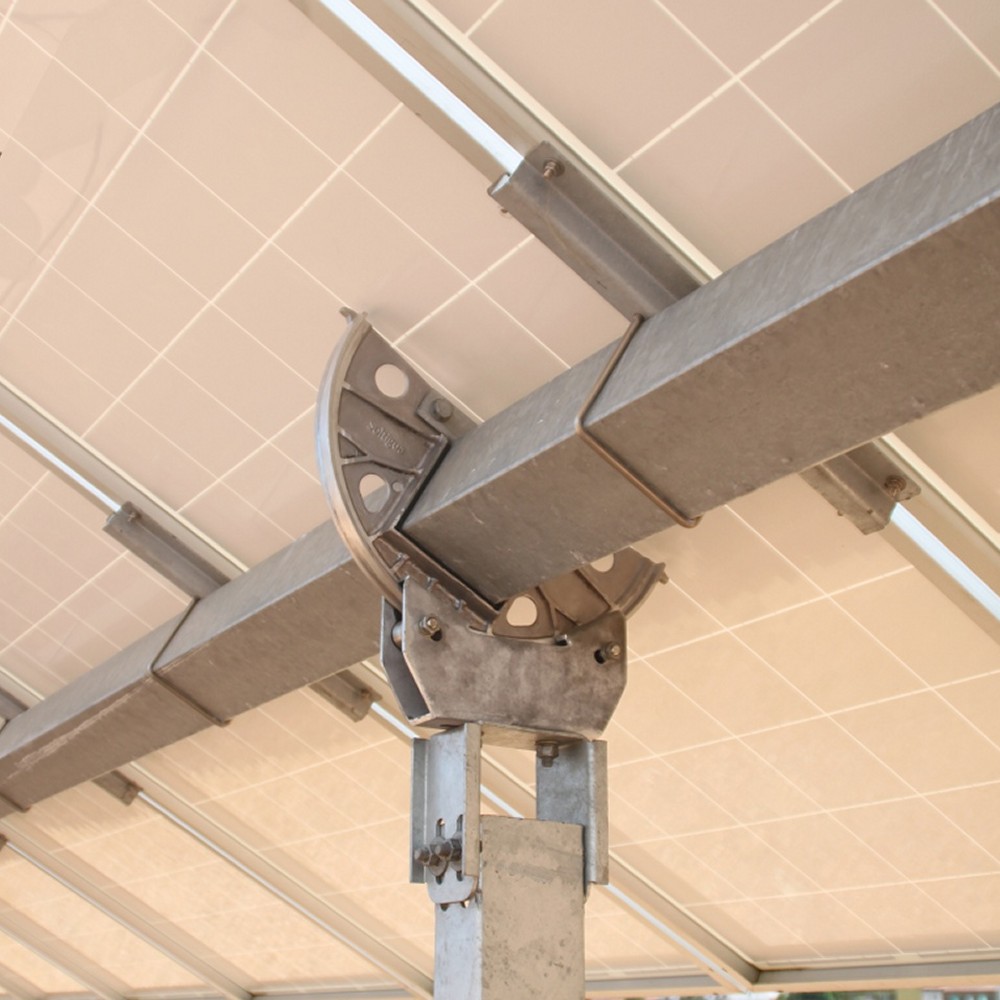 ``The decathlon includes ten separate events and they all matter: you can't work on just one of them!"Dan O'Brien - Olympic gold medal
Horizontal single-axis solar trackers increase the performance of PV solar fields by up to 30% with a limited increase of the investment. By following the sun throughout the day PV trackers maximise power generation. They also better match the grid demand profile, which peeks in the afternoon, and contribute to a smarter and more sustainable energy system.
To maximize the actual PV output on the field, sun trackers must deliver on several dimensionsduring the different phases of the PV project life: design, installation, operation and maintenance.Challenges are numerous and diversified, ranging from field configuration to need for local content, from local labour skills to weather conditions, from budgetary constraints to tight delivery terms.
Effective sun tracker performance requires all-around achievements and attention to detail, like a decathlete, who prepares for multiple challenges at the same time. This is iTracker WL's intelligence: delivering everywhere it matters!
---
Discover how iTracker WL performs under any dimension!
1. Site Adaptability
The most flexible tracker on the market
North South slopes up to 15/20%; wide terrain ondulation tolerance
Independent row tracking enables more flexible layouts
Alignment is possible in any direction to adapt to site constraints
Project-optimized tracker design
2. Wind Management
Holistic approach to wind loads!
Wind tunnel tested, including dynamic analysis
Intelligent stowing position along the array avoids wind galloping
Soltigua's patented bearing concept includes a torsional limiter
An embedded damping factor avoids the addition of external dampers
3. Outdoor Resistance
Ready for the harshest environment!
Patented rolling bearing outperforms the sliding one against dust
IP 65 slew drive and IP66 tracker panel against moisture, dust and molten salt
Broad range of working temperatures from -20°C to +50°C
HDG metal structure and components with advanced coatings (Zn-Al-Mg)
4. Wireless Operation
Sub GHz radio architecture for optimal results
Long range communication (250m)
Low power consumption and long life batteries (up to 5+ days of autonomy)
Dedicated PV module for battery charge
Broadcast messages for rapid communication to trackers
5. Endurance & Reliability
Designed and field tested for 50-year service
Patented balanced design reduces mechanical stress on structure and motor
Proprietary rugged printed control board can resist temperatures from -20° to +80°C
Drive and bearing components tested on the field for an equivalent 50-year service
Optional wide charging-range rugged Li-FeO4 batteries
6. Advanced Design
Integrated mechanical engineering!
Tracking precision, balanced design and broad rotation range increase yield by up to 1,5%
Engineering platform leverages Soltigua's experience in complex CSP collectors
3D CAD modelling enables rapid virtual prototyping and in depth analysis
FEM (Finite Elements) analysis performed for various load cases on critical components
7. Intelligent Monitoring
Monitoring tailored to specific customer needs!
Individual monitoring and control of each tracker
Soltigua's cloud-based SCADA shows solar array status at a glance, in an intuitive manner
Single tracker status can also be detected, including warnings and alerts
Real time and historical data available
8. Minimized O&M
Minimized operating cost for the pv array!
Proprietary NFC app to support fast commissioning and seamless O&M
Maintenance position can be set tracker by tracker
Simplified cleaning and vegetation management: no obstacles between rows
Continuous table is already optimized for autonomous robot cleaning
9. Ease of Installation
Fast, simple and user friendly installation!
Highest installation tolerances on the market avoid repair work at construction site
No specialized tool is required during installation: no welding, no drilling
Installation manual available to partners and clients
Installation courses in Soltigua's headquarters and on project sites
Few bolt types to simplify installation
10. Certified Quality
100% compliant to state-of-the-art standards!
CE marked according to the Machinery Directive 2006/42/UE
Structural design compliant with Eurocodes EN 1991-1-1, EN 1991-1-3, EN 1991-1-4
Electrical design as per EU Directives 2014/35/UE (LV) and 2014/30/UE (EMC)
Certified by TUV Sud according to ISO 9001:2015 and 14001:2015
IEC 62817:2014 certified